As promised, I've taken pictures of parts of our apartment that I've recently updated and/or organized. Of course it would have been handy to see "before" pictures, but who am I to think that far ahead??
One of the generous gifts I was given at the end of the year from my class was a Target gift card. Matt and I put it to good use over the weekend and I love the little things we were able to do.
Project 1: Organize Bedroom Closet.
I have seriously wanted to reorganize our bedroom closet since Christmas. I'm not exaggerating. It quickly became a disaster zone once we got into the whole summer/winter clothes change over. We didn't have enough storage space (bins, dresser drawers, etc.) so things got all piled up and gross. Organizing the closet was one of the things I had the least desire to do on a Saturday after a long week at school. So the project was put on hold until now. Picture a "before" closet with clothes on top of the dresser; pillows and random blankets on the top shelf; shoes and purses on the floor. Here are the results of our "make-over:"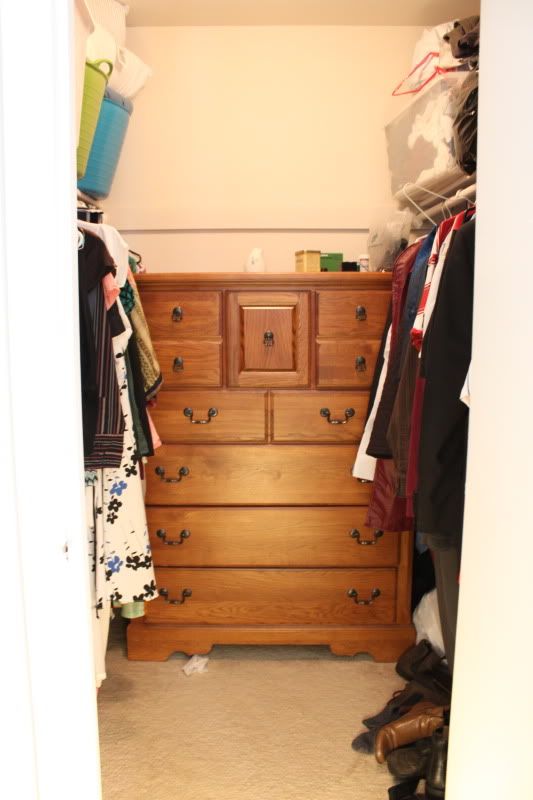 Yay!! There is almost nothing on the floor and just a few trinkets on top of the dresser.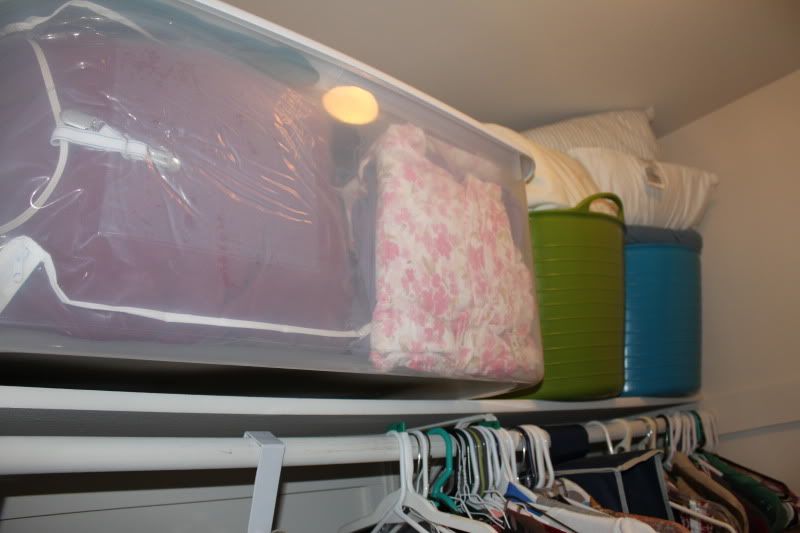 Bins from Target are a lifesaver. The clear bin has most of my winter clothes in it. The blue and green bins have pillows and blankets. Picture all that mess all over that shelf in piles. Not hot.
Project Two: Make Bedroom Cozier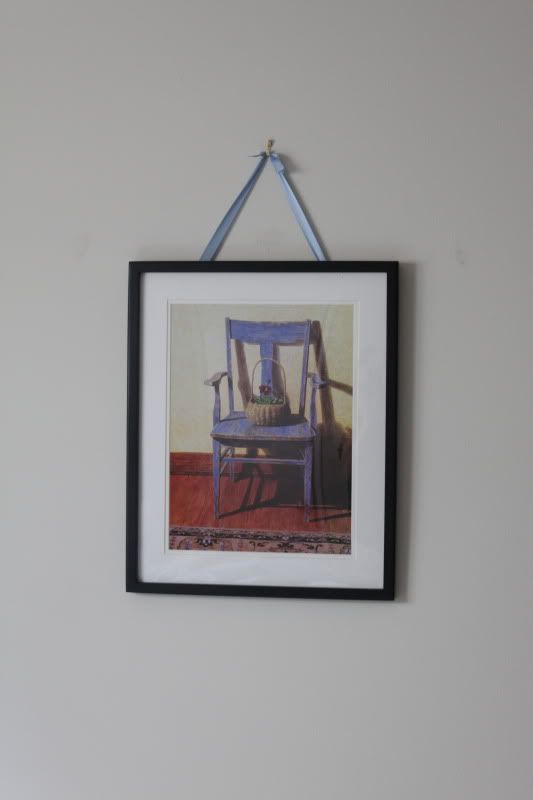 On one side in our bedroom we have a huge wall that is pretty much blank. We had had a picture hanging of an old antique map with a dark brown frame and it was just too...dark. We picked this up for cheap at Michaels and things look much much brighter and friendly!
Project Three: De-clutter and Organize Laundry Room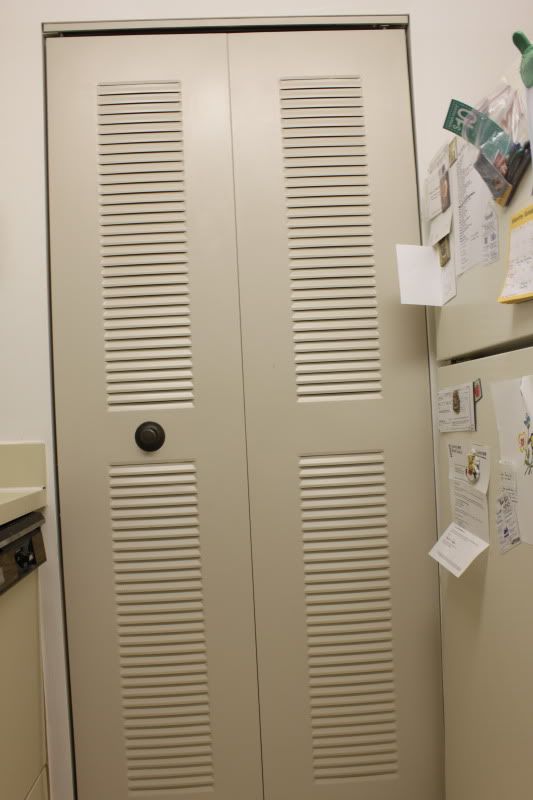 Our laundry room was another disaster zone. When you walk through those doors you have the washer to the right and the dryer to the left. Above each are white metal shelving units (two shelves on each side). I wisely chose to use one shelf above the washer for laundry detergent and other laundry supplies. That left three shelves to use as storage.
Here's a secret for engaged couples or couples who will probably get married: When you register for wedding gifts, you will get many of them plus other things you didn't register for. Many of those things are nice and you will want to keep them, assuring yourself that although you don't need a salad bowl big enough for 12 families to eat out of right now, you will at some point. With this in mind, you keep everything and exchange nothing. Bad idea. That huge salad bowl, pizza cooker, toaster oven, and three types of blenders actually have to go somewhere. And if you live in a 2 bedroom apartment like us, there are not many places for things to go.
So where did many of my random bowls, plates, and serving dishes go? That's right. Those handy laundry room shelves. My friends, those shelves were stuffed. Some items ended up on top of the dryer. If I actually wanted to use something, I had to take down five or six other things to get to the thing I wanted
Anyway, this ended up being a two-part project. I cleaned out and reorganized our office closet and was able to store some of those thoughtful gifts in there. That left me with much more space in the laundry room for things I use on a regular basis. I also added a fuzzy blue mat and a picture collage with cork board on either side. All our coupon clippings are in there now (instead of on the refrigerator). Here's a peek: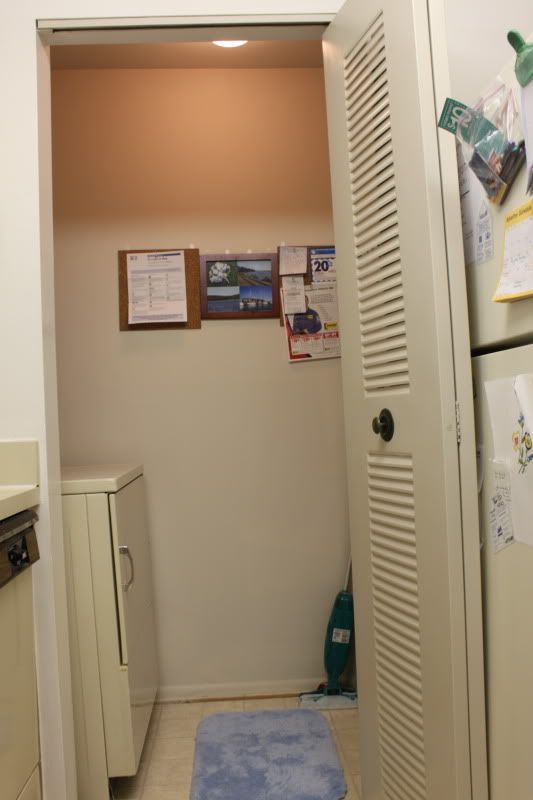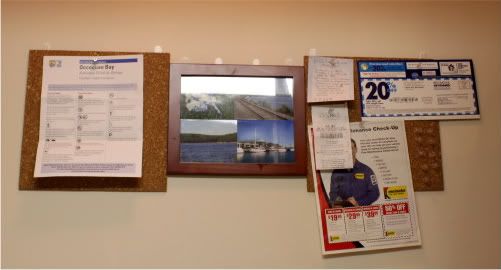 Project Four: Spruce Up My Bathroom
I have a nicely sized bathroom with lots of counter space that I love. For me, though, large spaces are easily cluttered. I added cork board to hang jewelry on and some fake flowers in a vase. There was an under the cabinet space with no door where I keep my hamper and extra toilet paper. I bought a cheap tension rod and curtain and hung that. Here's what it looks like: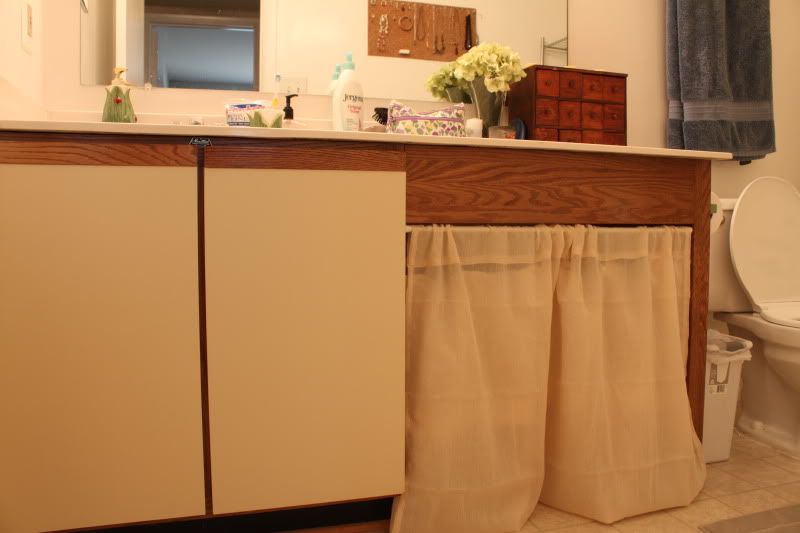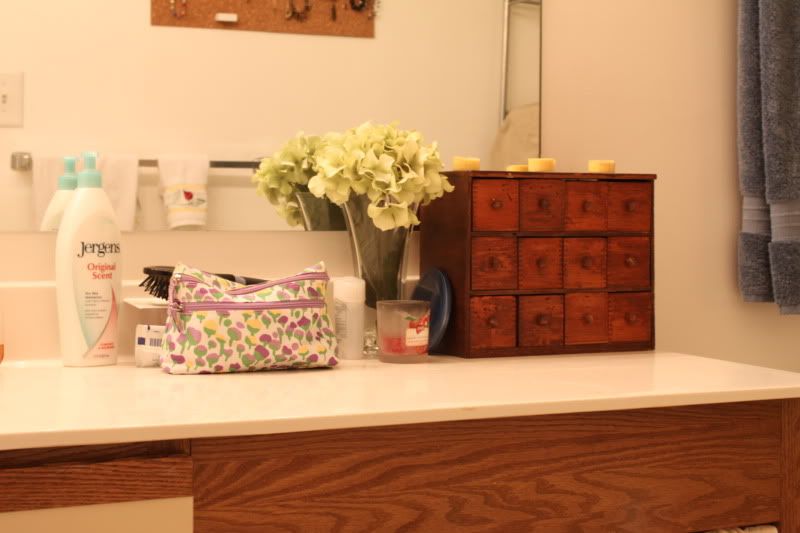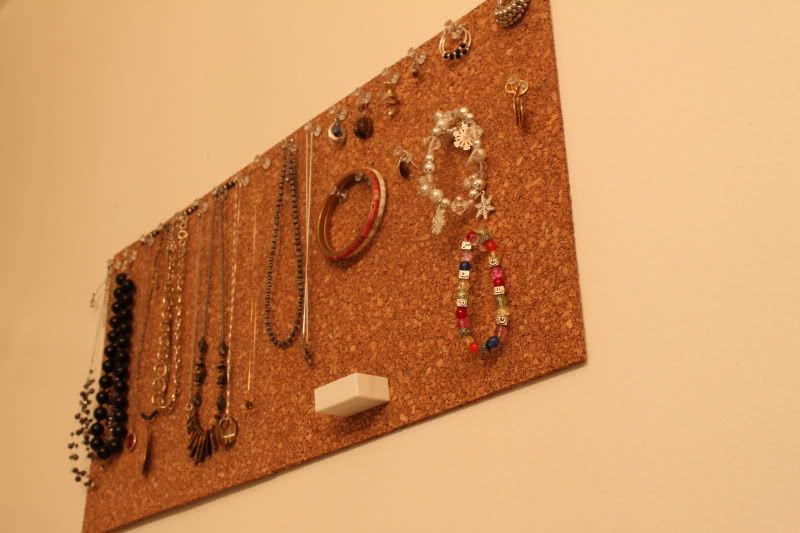 Whew! That's all for now. Maybe you can use some of my ideas in your place to cozy things up a bit :)